Fairytale Brownies sent me a dozen of their absolutely wonderful brownies for review. The dozen were all individually wrapped and came in 12 amazing flavors. The addition of Belgian chocolates makes these brownies moist and delicious.
First up was Walnut.These are nice sized brownies. Walnut was covered in good sized walnut pieces. The brownie was moist. It was sweet but not so sweet that you can't taste the chocolate. No bitter taste in the walnuts. Elegant, creamy.
The White Chocolate brownie has a striping of white chocolate on the top. It is really really creamy. It's a little sweeter than the walnut. Delicious flavor.
Pecan halves abound on top of the Pecan Brownie. They are very creamy and smooth. This one melts in your mouth. I could just sit here and at 6 or 7 of em.
Cream Cheese swirls ripple through the top of these. Cream Cheese brings out the sweetness of the brownie. Super creamy, amazing five star brownie.
The Caramel brownie has a line of caramel filling. It is like chocolate based liquid sugar. Sweet, like fudge.
Zig zags of peanut butter decorate the top of this decadent find. Peanut butter brownie is as pretty as it is yummy.
Fairytale Brownie's Original Brownie is a darn good brownie full of chocolatey goodness.
Chocolate Chip Brownie has the same great creamy Belgian chocolate flavor with the addition of chocolate chips
The Espresso Nib Brownie is covered in tiny flecks of espresso nibs. Their pleasant crunchy texture intertwines with the decadent chocolate to create a delightful treat
Raspberry Swirl Brownie is beautifully decorated with lines of raspberry flavor. You can taste the raspberry, but it does not overpower the chocolate. My husband's favorite.
The Mint Chocolate Brownie is striped with very refreshing mint chocolate flavor
Light colored bands of toffee decorate the top of Toffee Crunch Brownie. There is more toffee flavor than chocolate. Pleasingly delicious.
Fairytale Brownies has gift packaging for most occasions.Here is an example: Click on the links below for more ideas:
Welcome Baby Sprite 36
Treat a large group with this triple dozen assortment of snack-size Fairytale Sprites. Twelve delicious flavors are tucked inside our classic gift box and wrapped in a Welcome Baby band.
36 Fairytale Sprites, 3 each: Original, Caramel, Chocolate Chip, Cream Cheese, Espresso Nib, Mint Chocolate, Peanut Butter, Pecan, Raspberry Swirl, Toffee Crunch, Walnut and White Chocolate.
Admin Day

Birthday Gifts

Congratulations Gifts

Easter Gifts

Mother's Day

Patriotic Gifts

Thank You Gifts

Thinking of You Gifts

Welcome Baby Gifts
They even have
gift cards
and 3, 6 and 12 month gift clubs:
Enjoy FREE SHIPPING on each delivery!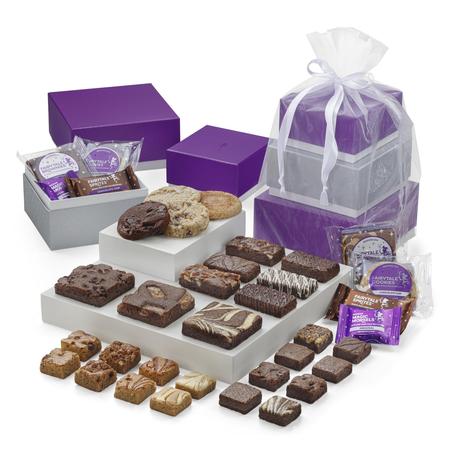 Send the gift that keeps giving with our new Fairytale Gift Club! They will remember your generosity for months to come!
Choose the 3-Month, 6-Month or 12-Month Fairytale Gift Club and the first month they'll receive a Classic Tower (pictured right) with a certificate announcing more gifts to come - you choose the start date. In the next two, five or 11 consecutive months, they'll receive each month's designated gift.
Fairytale

Brownies and supporters have raised $53,000 of the $72,000 needed to build a KaBOOM! playground in Tempe, AZ! Help us reach our March goal.
Make your donation
on behalf of "

Fairytale

Brownies Playground Project". Thanks for your support!
Want to keep up with all things Fairytale Brownies? You can follow em on
Twitter
, like em on
Facebook
and
sign up for e-mail offers
.
Ready to buy? Head on over to
Fairytale Brownies
and get you some.